Networking equipment is critical for businesses to run their daily operations efficiently, and any downtime can impact their productivity. Data security and processing are also a major concern for many companies. With backup power solutions, businesses can eliminate the risk of losing important data and ensure their equipment remains operational, even during power outages. That's why backup power is a vital component for businesses. At Centronic Power Solutions, we offer customized backup power solutions to meet the unique needs of businesses and ensure their operations run smoothly and securely.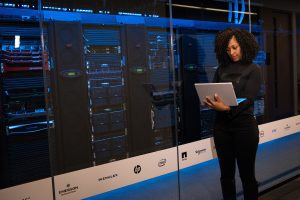 UPS systems for data centres are a must. A UPS system for the data centre is critical in ensuring that your centre remains in operation at all times.
A UPS system for data centres is an essential tool for protecting your sensitive computer equipment from power line disturbances and voltage fluctuations. With the increasing demand for backup power, UPS systems are necessary to maintain the stability of your data centre and prevent data loss from unexpected shutdowns or overloads. The UPS system will act as a buffer and provide clean, uninterrupted power to your servers and computing equipment, ensuring that they continue to operate as normal.
to provide an added layer of protection in the case of extended power outages. Our team of experts at Cetronic Power Solutions can assist you in finding the right solution for your specific needs and make sure you have a reliable backup power plan in place to protect your data and equipment. Contact us today to learn more.