1-3:1 20-160kVA or the 1-3:3 20-160kVA
The Sentryum Rack range was specially developed to ensure power continuity in all sectors deemed critical due to the specific environmental conditions or industrial processes requiring protection.
Riello Sentryum Rack Specs Highlights
High adaptability to input voltage
Compatible with industrial environments
Suitable for stand-alone and modular installations
Graphic touch screen display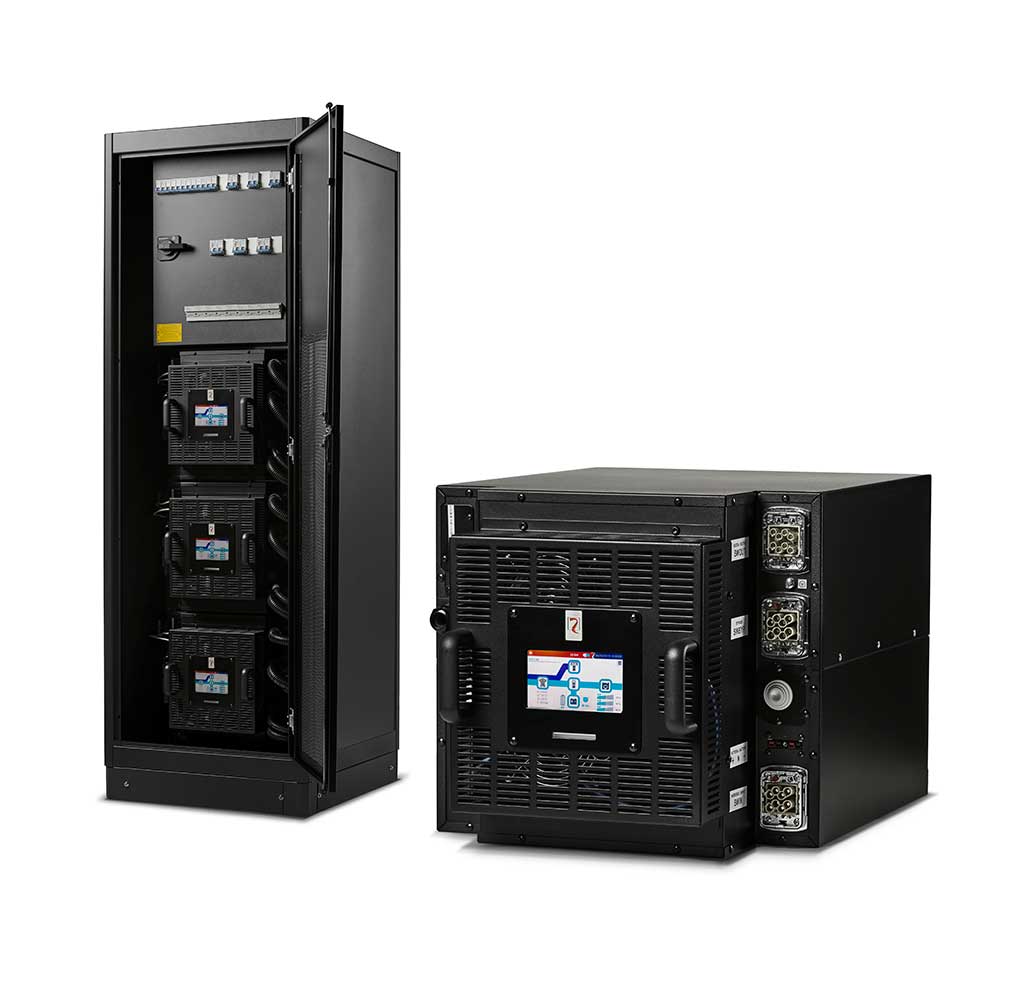 Riello Sentryum Rack Features
SMART BATTERY MANAGEMENT
The Smart Battery Management system, compatible with Li-Ion batteries and Supercapacitors, consists of a series of features and capabilities to optimise battery management and obtain the best performance and operating life possible.
MODULAR PLUG & PLAY SOLUTION
Sentryum Rack can be purchased as a single 20 kVA/kW module and installed in a 19-inch rack cabinet or mechanical support provided by the user.
ADVANCED COMMUNICATIONS
Sentryum Rack module is equipped with a coloured graphic touch screen display providing UPS information, measurements, operating states and alarms in different languages.
OVERALL SPECIFICATIONS
Weight of the Power Module [kg]
41
Dimensions of the Power Module (WxDxH) [mm]
445(19")x664x397(9U)
Weight of the cabinet [kg]
165 (Power Modules excluded)
Dimensions of the cabinet (WxDxH) [mm]
700x750x2060 (if provided by Riello UPS)
Maximum number of Power Modules for cabinet
3
Communications for each Power Module
UPS status led bar - 5 inch graphic touch screen diplay - 2 slots for communications interface USB - RS232 - Contact interface with 5x opto insulated Input and 4x Output relays
Ambient temperature for the Power Module
0 °C - +40 °C
Recommended temperature for battery life
+20 °C - +25 °C
Range of relative humidity
5-95% non-condensing
Colour
RAL 9005
Noise level at 1 m [dBA ±2] SMART ACTIVE
<40 for the single power module
IP rating
IP20
SMART ACTIVE efficiency
up to 99%
Standards
European directives: L V 2014/35/EU low voltage Directive EMC 2014/30/EU electromagnetic compatibility Directive Standards: Safety IEC EN 62040-1; EMC IEC EN 62040-2; RoHS compliant Classification in accordance with IEC 62040-3 (Voltage Frequency Independent) VFI - SS - 111
Moving the parts
Pallet jack (UPS cabinet) - 2 operators (UPS Power Module)
For any enquiries please contact us or alternatively feel free to use our short form provided here.