A bypass switch is an essential component to use in conjunction with an uninterruptible power supply (UPS) system. It is particularly useful during maintenance or repair work on the UPS system. If you are uncertain about the maintenance or repair of your UPS system and what actions are taken by engineers, or if you are not sure if it is necessary for you, it might be helpful to consult with a professional.
In order to ensure protection during power outages, two key components are required: a UPS system and a backup battery. However, in the event of a major malfunction or the need for repair, a bypass switch serves as an important safeguard. It guarantees the uninterrupted flow of power while engineers attend to the UPS system, making sure that there are no interruptions in power continuity.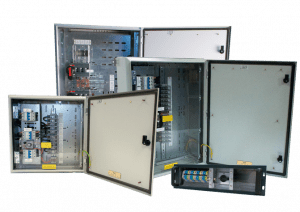 Two Main Types of Bypass Switches
The static bypass serves as a backup mechanism for the inverter. In case the inverter experiences a failure, the load will instantly switch to the main power source, guaranteeing an unbroken power supply. This switch is a standard feature in nearly all online UPS systems, providing an extra layer of safety to ensure that power continuity is maintained.
An external maintenance bypass switch, also known as a wraparound bypass, is attached to the exterior of the UPS. It allows for the uninterrupted flow of power during maintenance or repair, as the UPS can be easily disconnected without having to power down the entire network. This can save businesses significant amounts of money and minimise downtime, as it eliminates the need to shut down the network for several hours while the UPS is being repaired.
How do I know if my UPS has a bypass switch?
When shopping for a UPS system, it is important to check the product description to see if it includes a static UPS switch. This switch is often standard with online UPS systems, but it's always best to double-check. If you are unsure, feel free to reach out to us for clarification. We will be happy to provide you with the information you need to make an informed decision.
In most instances, an external maintenance bypass switch will have to be bought separately and installed by one of our technicians. For electrical systems that are crucial to operations, such as those in the manufacturing or healthcare industries, we usually recommend acquiring an external switch during the initial purchase of your UPS system, and we will assist in finding the right product that meets your requirements.
Frequently Asked Questions
What is a static bypass?
The Static Bypass is a connection that links the input power source directly to the output and continues to supply the load without passing through the UPS system.
How does a UPS Bypass Switch work?
UPS Static Bypass switches enable bypassing the normal UPS operation during instances of overload or fault. A well-designed system should allow this to happen without disrupting the power supply to the load.
What is UPS Bypass Mode?
The UPS Bypass mode occurs when the circuit is redirected from passing through the UPS to bypassing it. A manual bypass switch is utilised to remove the UPS from the circuit for maintenance, servicing, or in case it malfunctions. An automatic transfer switch operates similarly to a manual switch, but also automatically transfers the load from the UPS to the main electrical supply if there is an internal failure in the UPS.
What is bypass switch in inverter?
As a static inverter is a more specialised version of a UPS system it works the same way, the Bypass switch allows a static inverter system to be bypassed if there is an issue or maintenance is required.
What is UPS THDi?
Total Harmonic Distortion (THDi) is a metric that indicates the level of harmonic distortion. It is determined by the ratio of the combined power of all harmonic frequencies to the power of the fundamental frequency. THDi is widely used to evaluate the power quality of electrical power systems and to describe the linearity of audio systems.
For all enquires do contact us or use the form provided