Cetronic power solutions can provide an installation service for your UPS, generator and manual bypass control panels complete with all the necessary switchgear and distribution panels for both new and existing systems.
All work is subject to quotation following a site survey. All electrical installations are certified to NICEIC standards.
Some examples of our work include:
200kVA parallel redundant UPS system complete with bypass control panel with 2 outputs for distribution boards. Including all electrical installation work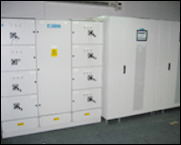 40kVA UPS with an external manual bypass switch and output distribution including RCBO's.
Castell interlocked manual bypass switches to ensure correct switching operation of the external manual bypass switch.
If you need a UPS system or generator installation, ask us for a quote now.