The Riello UPS Xtend (XTD) Sentryum range: is a lineup of 10-20 kVA UPS systems that are both single-phase and three-phase compatible, with an efficiency rating of up to 96.5%
The S3T UPS provides a highly efficient power protection solution, with a capacity of up to 96.5% in online double conversion mode and full-rated power output of up to 20 kVA.
The UPS system offers versatility with its ability to accept either three-phase or single-phase input and provide either single-phase output or three-phase output. It also boasts a specialised control system that effectively minimises harmonic voltage distortion.
The Riello UPS Sentryum is designed with exceptional overload handling capabilities, allowing it to withstand sudden peak loads without requiring transfer to bypass. It can withstand 125% overload for 10 minutes and 150% for 1 minute, and has a high short circuit capacity of 270% for 200ms and 150% for 300ms.
The S3T units can be installed in parallel, up to a maximum of 8, to increase capacity or establish redundancy. The system is designed with a closed loop mechanism, ensuring that the UPS continues to operate even if there is a disruption in the connecting cables.
The UPS features a modernised 5-inch color touchscreen display panel that clearly displays vital UPS measurements and operating status. Additionally, it includes a cutting-edge LED status indicator that changes color (light blue, dark blue, yellow, red) to reflect the operating mode and condition of the UPS.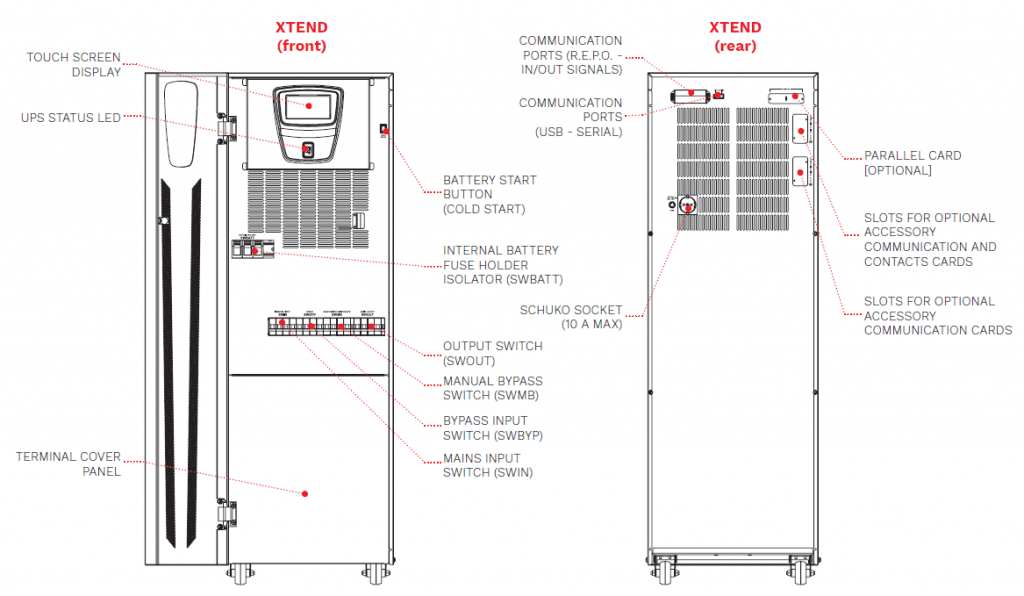 ADVANCED COMMUNICATIONS
The Compact (CPT) Sentryum is equipped with a coloured graphic touch screen display providing UPS information, measurements, operating states and alarms which are necessary
SMART BATTERY MANAGEMENT
The Riello UPS Smart Battery Management system consists of a series of features and capabilities to optimise battery management and obtain the best performance and operating life possible.
HIGH POWER AVAILABILITY
Sentryum's fully rated design delivers full power (kVA=kW) regardless of the load power factor or operating temperature (full rated power is available up to
For any enquiries please contact us or alternatively feel free to use our short form provided here.