The Health Checks
At our company Cetronic Power Solutions, we offer a variety of solutions for UPS Systems and generators, including health checks and Load Bank Testing. These services can be scheduled or requested on an as-needed basis. For larger units, our engineers will visit your site, while smaller units of 3kVA or less can be sent directly to our workshop.
We are flexible and can arrange appointments to fit your schedule. If you have multiple units at the same location, we can check them all during the same visit. Our engineers are highly trained and manufacturer-independent, allowing us to perform assessments on a wide range of manufacturers, even for outdated models. Contact us today to ensure the longevity and reliability of your power supply system.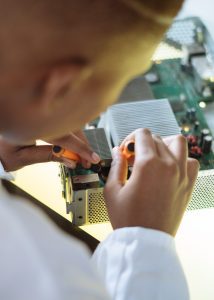 You may find a healthcheck and load bank test for your UPS system or generator to be extremely beneficial if:
You rely on your UPS system or generator for critical operations and want to ensure it is functioning properly
You want to extend the lifespan of your power supply system and avoid costly repairs
You want to identify potential issues before they cause downtime or loss of power
You are looking for peace of mind knowing that your system is in top condition and ready for any situation
You want to maintain compliance with industry regulations and standards
You are seeking to optimize your system's performance and energy efficiency.
Load Bank Testing for Generators
A Load Bank Test is an effective way to assess the performance and reliability of your generator. This test simulates real-world conditions by placing the generator under maximum load, allowing you to identify any potential issues and take corrective actions before they cause a failure. By conducting regular Load Bank Tests, you can have confidence that your generator will operate as intended when you need it most, reducing the risk of unexpected downtime.
What does a load bank test look like?
The Load Bank Test performs a comprehensive evaluation of your generator's performance. This test involves simulating real-life conditions and putting your generator through its paces. During the test, we assess various critical components, including:
The engine's ability to produce and sustain the required power output over time
The alternator's ability to maintain consistent voltage and frequency stability
The effectiveness of the control systems under various load conditions
The overall performance of the entire system
The oil and fuel pressure to ensure proper lubrication and fuel supply for power generation
Additionally, the Load Bank Test helps to remove any built-up deposits in the pistons, engine casings, and exhausts, identify potential weaknesses and keep a record of the results and any necessary remedial work. By conducting this test, you can be confident that your generator will function effectively and efficiently when you need it.
If you require this service please get in touch so we can assist you