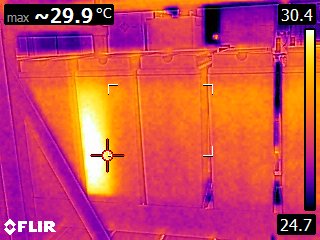 We now provide a thermal imaging option on all of our service visits and installations.
Using the thermal imaging camera allows us to identify any potential problems that may occur, such as a faulty cell in a battery, or a loose terminal connection on a battery or in a UPS, fuse panel or external manual bypass switch.
As seen in the photo to the right, it can help us to identify faulty cells in a battery. In this image you can see the faulty cell has become hotter than the other batteries.